Simple tutorial on how to install Spybubble app to a cell phone in 120 seconds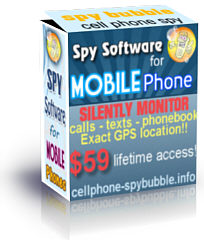 Installing spy bubble to a cell phone is a fairly straightforward and simple process even for the technically challenged. When you purchase spy bubble EXACT instructions for the specific different types of cell phone operating systems are made available to you. In other words installing spy bubble to a BlackBerry phone is slightly different from installing spy bubble to an IPhone but the overall process of installing spy bubble is almost the same for all cell phones.
Open the web browser of the cell phone you are going to install spy bubble to. With most cell phones Internet access is accomplished by selecting the Internet icon on the cell phones main window or Home screen. Immediately after purchasing spy bubble you were sent an e-mail which contains the web address of the actual spy bubble application. You navigate this web address with the cell phones browser.
You'll be asked to enable application permissions. This is basically telling the cell phone it is okay to install and run spy bubble.
Click the download button to begin the download of the spy bubble app. The actual name of the application will be called radio.
You will then be presented with the Spybubble terms and conditions screen which you must accept for the install to continue. The terms and conditions screen basically says that you agree that you own the cell phone or have permission to install spy bubble to it. Of course we know that you don't but spy bubble requires you accept those terms and conditions so they are removed from any responsibility.
The last step in the install process of spy bubble is to input your license key which you are given in the e-mail you get immediately after purchasing spy bubble.
Once you have done this you will see a activation successful! message which indicates spy bubble has successfully been installed the cell phone.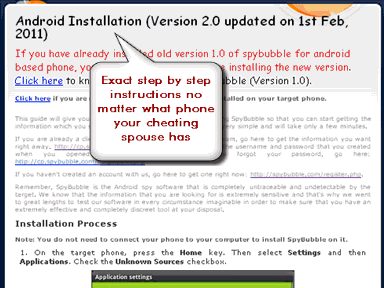 The entire installation process should take, at most from start to finish, 5 minutes. When I installed spy bubble to my own cell phone, which is an HTC Evo, it literally took me all of 2 minutes. The entire process was actually much quicker and simpler than I thought it would be.
This process of installing the spy bubble application to the target cell phone is the only time you need to get access to the target phone. In the future when you want to view spy details of the cell phone you have now installed spy bubble to you login to your spy bubble members area. If you are not yet a member of spy bubble here are images inside spy bubble members area.